Put forward your ideas
If you are not sure where to start. Our artists are happy to make something completely original from scratch with something as simple as a bullet list of items, but to really get the most out of the experience, it helps to have some solid ideas prepared.
Some of our customers will prepare the artwork in advance, while other customers send us sketches of their ideas scribbled on the back of a napkin or on a whiteboard. We will revise these ideas or sketches.
The Finding Inspiration Clipart and pictures.
If you have some photos of the design, or you can use some photo sites. That's really an inspiring way. We will combine the pictures with your ideas. But this is by no means required. Our artists have years of experience and training and are perfectly capable of creating memorable designs with just a little bit of guidance from the customer!
Get satisfactory artwork.
Our designers will edit and modify the artwork in the software. When it is finished, you can see a clear, perfect artwork.
You can see the detailed Pantone color number, size, metal plating, edging, etc. on it.
If our artists have any recommendations for options they think would work best on your design, like plating or edging, we will include multiple proofs so you can see the differences. From there, all you need to do is decide which ones work best and let our team know what revisions you need to make them perfect.
Communicate with sales staff
You need to tell sales staff order details, Include product quantity, size, material, progress, what metal finish, the number of colors, and backing attachment.
And attach your design, which helps the sales staff to provide customers with more accurate prices.
Confirm order details
Once you have decided the craft, size, and designs of coins you want to make, the next step is confirming the price and lead time for your order.
The price of coins consists of two parts: mold fee and unit price. The price mostly depends on quantity, size, plating, and so on. Once the mold is created, it will be kept for 2 years, with no mold fee for repeat orders in the same design, even the color is changed. Generally speaking, the more you order, the more cost-effective it will be.
Production time for a coin starts from the moment you approve the production proof, our drawing team will help you finish the digital mock-up based on your original design. The standard turnaround time in the industry is around two weeks rushed and 3-4 weeks for non-rushed. But for our factory, most coin orders can be finished around 10 days. This excludes shipping time, as shipping time for many express companies are unstable lately. If your design is more complicated, extra time will be taken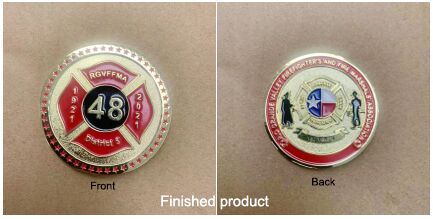 Put into production
After you have confirmed all the details of the order including the drawings, we will arrange the production.
Making mold, polishing, plating, filling color, and so on.
If you are interested in our production process, we can also record the whole process for you.